Why YONGDELI Cold Pilger Mill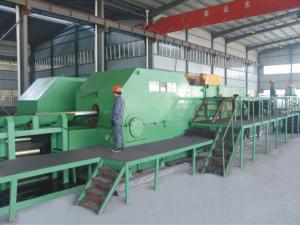 Rolling Mechanism
1. High-quality main rolling mechanism guarantees high processing precision. The main machine pedestal of our cold pilger mill is machined and produced by large numerically-controlled machine tools.
2. Flywheel mechanism has been applied to the main transmission system. The transmission gears box adopts eccentric configuration. Connecting rod with length of 6 times of the crank eccentric distance is also applied to our cold pilger mill. These advanced mechanisms and structures guarantee the precision and stability of the machine frame.
3. It is easy to replace the dies. The open machine frame helps reduce weight of the whole cold pilger mill and increase roiling speed.
4. The rolling mechanism is configured with feeding chuck and finished tube chuck to keep rotation of the tubes normal during the rolling process so as to increase dimensional precision of the finished tubes.
Tube Billet Feeding Mechanism
The feeding dolly which is driven by dual screw rods can work stably.
Rotating Feeding Mechanism
1. The dual-cam structure allows tube billet feeding in and rotation to be conducted separately.
2. Chuck of the core bar can move flexibly. The chuck jaw sleeve works along the sliding rail. The chuck jaw bears even stress and fastens tightly.
Material Loading System
The material loading system of our cold pilger mill can guarantee the tube billets are situated along the rolling line. Tube loading mechanism which can lift up and lower down (for end-loading cold pilger mill) and mechanical-armed material loading rack (for side-loading cold pilger mill) are adopted in our cold pilger mill.
Electrical System
PLC system can be configured to our cold pilger mill if customer requires. We employ Siemens S7 series PLC system with touch screen in our cold tube rolling mill and the PLC system can achieve human-machine interaction as well as fault display, alarming and self-diagnosis.
Other Advantages
Our cold pilger mill has compact structure and occupies little space. With low installed gross capacity, YONGDELI cold rolling mill is energy-saving.